Northern Ireland Hyundai Dealers: Wheeled Excavators, Crawler Excavators and Wheeled Loaders
Over the last 35 years, Northern Lift Trucks, have established themselves as a leading supplier of Hyundai construction equipment throughout Northern Ireland, Co. Donegal and Co. Sligo. Northern Lift Trucks, based in Lisburn boast an extensive range of top-class construction machinery including excavators and loaders. As one of the world's largest engineering manufacturers, Hyundai provide a superb range of track and rubber wheeled excavators, mini excavators and wheeled loading shovels. Hyundai enable Northern Lift Trucks to satisfy the demands of Northern Ireland's construction market.
An operator, who takes pleasure in his work, does a better job. Hyundai Construction Equipment are committed to increasing productivity with machinery dedicated to operator's comfort, speed, precision and durability, the Hyundai HX and HL Series earthmoving equipment are quality products
Hyundai Crawler Excavators for Construction



Whether in construction work, mass excavation, mining or waste management, Hyundai crawler excavators deliver top performance in various industries around the globe.
The new A-Series Crawler Excavators feature high performance engines, delivering better productivity and fuel efficiency while meeting EU Stage V emissions regulations. With a tough new exterior design with added safety features and greater serviceability, you can rely on the A Series of HX Crawler Excavators to perform in the toughest conditions on large construction sites and infrastructure projects.
Hyundai tracked machines offer superior stability and optimised weight distribution in off-road applications. From 13 to 120 tonnes, they are optimised for heavy digging, lifting and grading applications and built to last with minimum downtime.
Additional options include different counterweights, mono- and 2-piece-booms and various arm options as well as advanced camera systems and safety features.
Contact us to find the Hyundai crawler excavator model that's right for you, whatever the application.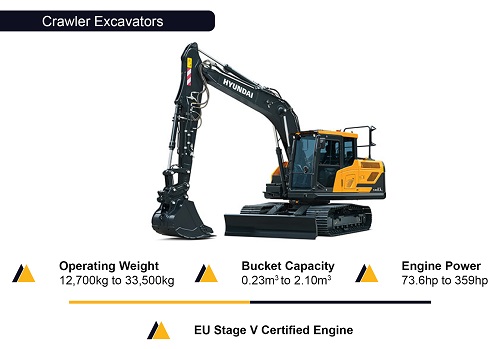 Hyundai A Series Crawler Excavators offer the best productivity and fuel efficiency, ergonomic for efficient operation featuring:
Eco-Friendly Engine
EPIC (Electric Pump Independent Control) Hydraulic System
Automatic Engine Shutdown
Eco Gauge
Lifting Mode
EU Stage V Certified Engine
Eco Report
Fuel Rate Information
Exterior Design for Robustness and Safety
Intelligent & Wide Cluster
Proportional Auxiliary Hydraulic System
Built for Safer Operation
Less Maintenance
More Uptime
Hi MATE
Hyundai Mini Excavators for Construction



Hyundai's compact line of mini excavators offers exclusive features to help you be productive and realise your projects with maximum uptime.
With their small footprint, low cost, and precise operation, Hyundai compact excavators have won over contractors in a big way.
Contact us to find the Hyundai mini excavator model that's right for you for site preparation or general excavation.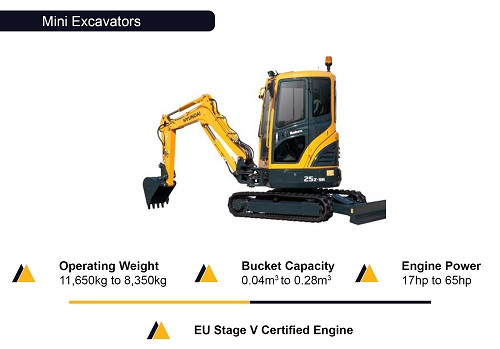 Hyundai Mini Excavators are state of the art earthmoving machinery, giving every operator maximum performance, optimal controllability, versatility, and proven technology featuring
Stage V-certified Kubota D902 Engine Technology
Robust Upper & Lower Frame
Control System
Advanced Hydraulic System
Comfortable Cabin
Operator Convenience
Easy Maintenance
Extended Life of Components
Hyundai Wheeled Excavators for Construction



With Hyundai's new generation of Wheeled Excavators, you'll roll into – and out of – the toughest jobs. Featuring advanced controls, increased ground clearance and easy manoeuvrability in tight spaces, these ultra-reliable machines let you accomplish more work in less time.
Hyundai Construction Equipment has raised the benchmark again with a new series of wheeled excavators that give you the edge in numerous on-road and off-road applications. Our A-Series machines comply with EU Stage V emissions regulations while delivering higher performance, better fuel efficiency, superior travel speed on the road, an improved cabin and added safety features.
A popular choice for operators tackling utility work, street maintenance, and construction site tasks, the Hyundai HW-A series offers efficient digging in a compact, manoeuvrable excavator.
Contact us to find the Hyundai wheeled excavator model that's right for you, whatever the application.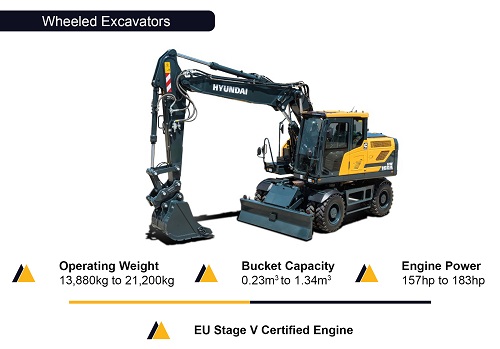 Hyundai A Series Wheeled Excavators offer superior performance with effortless power, for maximum return on investment featuring:
EU Stage V Certified Engine
Hydrostatic 4 Wheel Drive
Proportional Auxiliary Hydraulic System
Engine Auto-Idle
Load Sensing Hydraulic System
Changeable Blade & Stabilisers
Tiltrotator
3 Way Adjustable Steering Column
Ride Control
Attachment Flow Control
Climate Control
Advanced Audio System
Fine Swing Control
Hyundai Wheeled Loaders for Construction



Hyundai wheeled loaders are fully equipped for unbeatable comfort, control, durability and easy maintenance for maximum uptime in all industrial, mining and quarrying applications.
With a range of 10 models covering 11500 kg- 30800 kg with 99 kW- 265 kW of power, Hyundai HL and A-Series wheel loaders offer the power and performance you need. With huge bucket capacities and breakout forces, you can count on them to be highly productive in all industrial, mining and quarrying applications.
A-Series wheel loaders fully comply with European Stage V emission levels.
Contact us to find the Hyundai wheeled loader model that's right for you, whatever the application.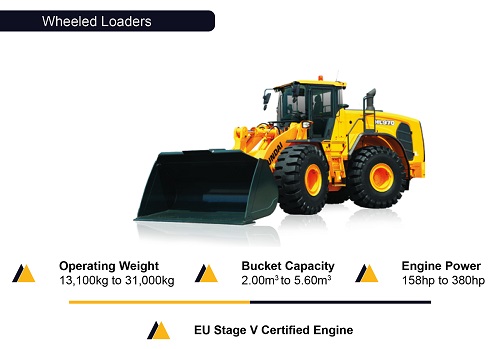 Hyundai Wheeled Loaders are engineered with impressive power, to work efficiently and effectively, featuring:
EU Stage V Certified Engine
Weighing System
Smart Power Mode
Hydraulic Differential Lock
Automatic Engine Shutdown
Eco Report
Attachment System
Adjustable Seat and Armrest
Remote Door Control
Ride Control
Touchscreen Monitor
Instrument Cluster
Optimal Safety
Advanced Diagnostics
Hyundai Construction Equipment: Moving You Further



Hyundai's Construction Equipment Division (the new name for Hyundai Heavy Industries from 2017), has a long history dating back to 1985 when production began.
Today, Hyundai's construction equipment offering is widely recognised as an industry leader due to its advanced ergonomics, engineering and technology.
Hyundai's Construction Equipment Division (Europe) focus on creating equipment for the European construction & heavy industries that combines an attractive price to quality ratio and guaranteed low downtime. The equipment has been developed with the user in mind by placing importance on easy of operation and high comfort. Their extensive ranges of excavators ensure you will get to the bottom of every job with operating weights from 1.6 tonne to 120 tonnes, while their wheeled loaders will keep things moving with bucket sizes between 1.9m³ and 5.4m³.
Backed by highly advanced factors automation, a zero-tolerance quality control inspection system, and innovation engineering, the division offers a wide range of construction equipment to satisfy our customers' needs.