Innovative Complete Solutions From Manitou – Agritechnica 2019
13th November 2019

Posted by

Aoiffe McConaghy
Comments Off

on Innovative Complete Solutions From Manitou – Agritechnica 2019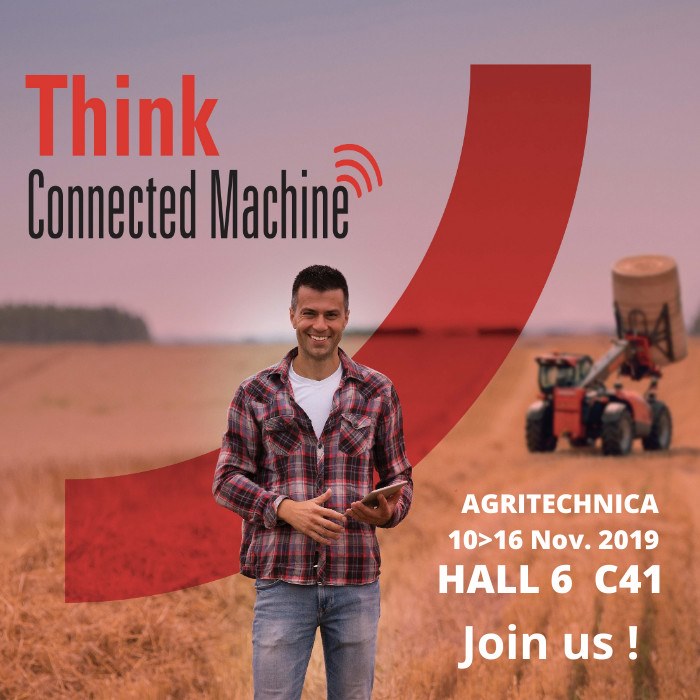 Displaying numerous innovations throughout its range of articulated loaders and telescopic handlers, Manitou is highlighting the service it provides to farmers, particularly through the new connected machines.
Connected machines for optimum use
The Manitou group has been connecting, as standard, all new Manitou brand machines ordered* since January 2019. This offers farmers a new experience and new services, enabling them to optimize the use and maintenance of their machine.
"Connected machines allow us to analyze accurate data to reduce the total cost of ownership for farmers. Based on the numerous models already equipped, we noted an average fuel consumption of only 5.78 l/h** across all four telehandler applications, i.e., loading, road work, handling and idle. This represents a saving of over €4,660 over a period of three years of use, compared to the market average."

Olivier Le Pesquer, head of TCO (Total Cost of Ownership) for Service Development.
Customer oriented application – myManitou
As part of the group's focus on digital transformation, the new smartphone application, myMANITOU provides instant service. The transmission of data in real time* by the connected machines makes it possible for farmers to know the location of their machine at all times, check fuel and AdBlue levels and view the number of hours' use of their machine. They can also easily contact their Manitou dealership via this applications to anticipate any work on the machine.
The application gives access to other information, such as the instruction manual and warranty extension. Regular upgrades are available to ensure long term added value. Future developments include notifications of levels, analysis of fuel consumption and access to technical documentation about attachments.
"We are very proud to offer our customers this service, which allows them to work without worrying about their machine. They are free to focus on their core business. With the benefit of a connected machine, they can reduce their TCO, save time and improve safety."

Maxime Deroch, president of the Services & Solutions division.
*Information is transmitted every 2 minutes when the machine is active, and every 15 minutes when the engine is switched off.
Numerous innovations to increase productivity
1. A new JSM to reduce operator fatigue
On continuously variable hydrostatic transmissions, the accelerator pedal acts simultaneously on the speed of the hydraulic movements and the machine's travel speed. This dual effect is uncomfortable for farmers wishing to combine high hydraulic speed with a slow approach speed. To solve this issue, the Manitou group has expanded its range with the innovation JSM (Joystick Switch & Move) Auto Power. JSM Auto Power means the use of the machine is more intuitive and precise and operator fatigue is decreased.
Available on Manitou telehandlers* and applicable on Stage V models equipped with V and V+ hydrostatic transmissions, this option brings together all the machine's functions in a single control. The joystick increases productivity by adjusting the engine speed in proportion to the hydraulic power required.
The JSM Autopower also enables the operator to achieve fuel savings estimated at around 12.5%, compared to a non-equipped model. Reducing the machine's emissions increases its residual value and reduces the total cost of ownership.
* Compatible with models MLT 630 V & V CP / MLT 730 V & V CP / MLT 635 / 741 / 940 V+ and MLT 961 V+ Stage V version.
2. A new camera for increased visibility
The Manitou group will present the new High View camera at the trade fair. This active vision system comprises a camera fitted to the boom head, which automatically sends images to a screen in the cab as soon as the boom passes a certain angle.
Easy to use, the High View camera increases precision when loading and handling applications at height. Bulk loading is quicker and does not require help from a second person to check the filling level of the trailer. This results in roductivity gains are estimated at around 10%.
Protected by a metal frame, the camera is waterproof against high-pressure cleaning and dustproof. Equipped with LEDs, this system can be used in any situation, regardless of light conditions. This option is available on the MLT Silent Force range (MLT 840/1040) and also on the MLT NewAg range.
3. No more manual greasing with the Automatic Greasing System (AGS)
The automatic greasing system (AGS) simplifies maintenance operations for farmers by putting an end to manual greasing. It also ensures optimal greasing of the major components (cylinders, boom, axles, etc.), resulting in a reduction in machine downtime.
Unlike other automatic greasing systems, the Manitou AGS system has three separate greasing circuits. Each circuit has independent programming of the quantity of grease supplied to each cycle. This intelligent system means that the right quantity of grease is applied to the right area at the right time and is fitted with a low grease level and empty tank warning indicator. It also has a pressure relief valve. The AGS system automatically greases the chassis (MLT NewAg) or the chassis and boom head (MLT 840/1040/961).
4. A new versatile range of attachments
Inspired by the best-selling CBG 2450/1700, the brand new range of multifunction grab buckets compliment the evolution of the machines and better meet the current needs of farmers. Innovations include removable side teeth for better material retention and adapted corners for a longer life.
Designed for intensive use with increased capacities, this range of attachments are equipped with cylinder protectors and grab opening of more than 90°, allowing users to work against a wall.
The expansion of this range gives farmers greater performance and versatility of use. These attachments are particularly suited to handling cereals, silage and straw, as well as loading and unloading manure.