Another Great Parts Offer – July 2020
1st July 2020

Posted by

Aoiffe McConaghy
Comments Off

on Another Great Parts Offer – July 2020
Use Manitou Genuine Parts for optimum performance, productivity and longevity of your machine.
Manitou Oils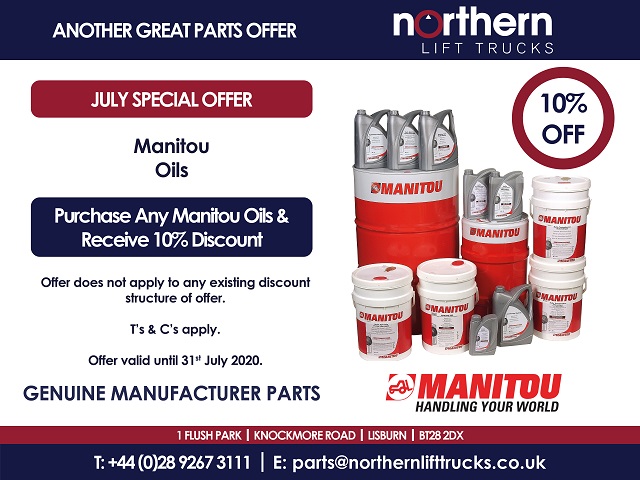 Engine lubrication is an essential element for the smooth running and maintenance of your MANITOU, and requires great care. The variety of high quality lubricants allows you to ensure optimal performance, protection against abnormal or premature wear, cleaning of the circuit and reduction of environmental impact.
Oil is essential for the proper functioning and longevity of your MANITOU's engine. It fulfils several roles:

• Lubrication of surfaces: reducing friction between touching parts and ensuring maximum performance, thanks to the presence of a film of oil separating the two surfaces.

• Protection against corrosion: combating humidity, acidic substances and any other factors, anti-corrosion additives prevent metal corrosion due to
the combined action of water, oxygen and air of some oxides of combustion. They form a protective film or passivation of the protected surface.

• Engine cooling: maintaining thermal equilibrium in the engine by evacuating some of the heat produced by friction.

• Evacuation of particles: the detergent and dispersion performance allow better cleaning of the engine's interior. By keeping the impurities and combustion residues in suspension, it prevents soiling and buildup of particle deposits in the engine, allowing them to be caught in the filter.
Why should you change the oil in your engine regularly?

If your MANITOU's engine oil is not changed regularly, you run the risk of seeing its performance deteriorate. Poor lubrication of the engine inevitably leads to premature degradation. Indeed, the oil deteriorates because of the strong pressures and temperature variations. An oxidized oil loses the properties of its additives and components, accelerating pollution and deterioration of the engine.
Pallet Truck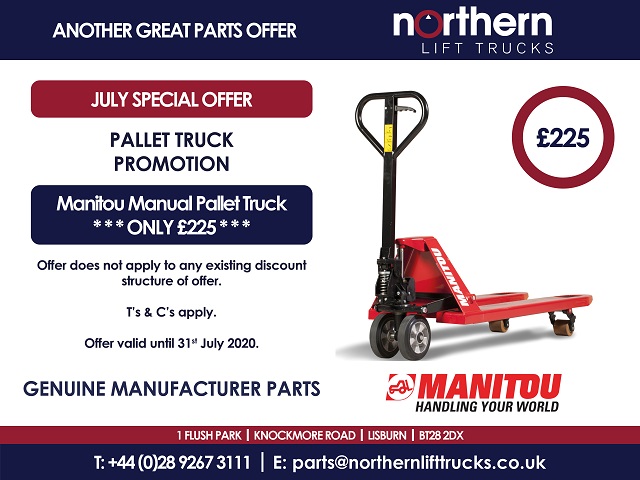 Boasting extremely strong chassis and forks, our products are designed to work in demanding conditions with repetitive movements.
Quicklift System
Proportional Valve Pump
Relief Valve
Large Diameter Wheels
Nylon Rollers
Infeed / Outfeed Rollers
Spare Parts Available
Alliance Tyres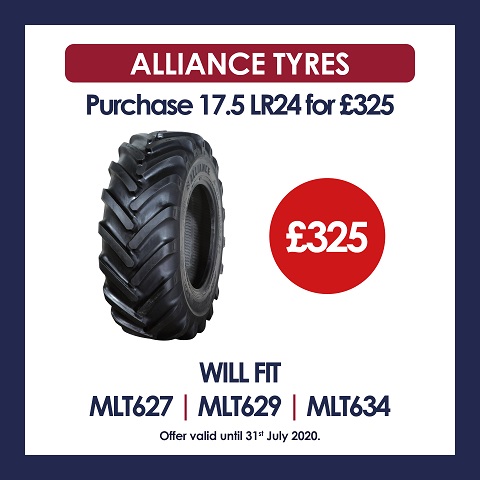 Tyres are very important elements when using a machine. Its functions are multiple:
Resistance: A tyre carries more than 50 times its weight and suffers more than 20 million deformations over its lifetime.

Endurance and adaptability: It must maintain all its performance on all road surfaces (tar, earth, pebbles, paving stones, cement, etc.) and in all weather conditions.

Specific structure: The tyres transmit power and trajectory. But in connection between the ground and the chassis, the tires absorb micro-shocks and vibrations thanks to the flexibility of their raw material and the specificity of their structure.

Total Cost Of Ownership (TCO): The tyre optimises fuel consumption. The tire's resistance to rolling effects and good maintenance largely determine fuel consumption, think TCO!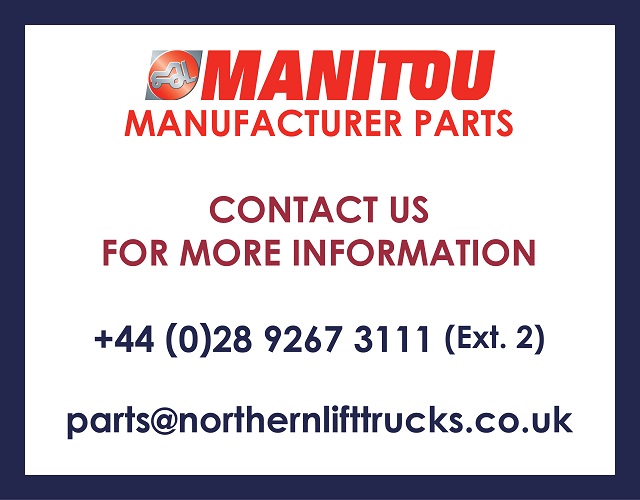 ⏰🗓️ Get monthly parts offers to your inbox, sign up below: